Current Aircraft
G-LGCA – Robin DR400 – Remo 180
Manufactured: 1985
From 1985 to 2003 the aircraft belonged to the Flugschule Grenschen in Switzerland and was used for basic training and aerotowing. DAES of Dijon owned the aircraft from July 2003 and refurbished the aircraft to our specification. It arrived at Dunstable on Saturday 8th February 2004, previously registered as HB-KAP.
The aircraft was previously fitted with with a Hoffman 3 bladed constant speed propeller but now sports a fixed 4 bladed propeller.
G-LGCB – Robin DR400 – Remo 180
Manufactured: 1990
The initial owner was a Gliding Club in Bavaria, but since 1995 it was privately owned and located at Donaueschingen in Southern Germany. The aircraft arrived at Dunstable on 23rd March 2005 having only done 1000 hours and was previously registered D-EHRA.
The aircraft is fitted with a Hoffman fixed pitched 4 blade propeller.
G-LGCC – Robin DR400 – Remo 180
Manufactured: 1975
The aircraft was purchased from a Gliding Club based in Alinsas near Goteburg, in Southern Sweden. It was flown to Dunstable on 6/7 Sept 1987. Initially registered as SE-NXI, then registered in the UK as G-BNXI.
In 2007, the aircraft was stripped back and rebuilt by Aero Paul, it was then re-registered as G-LGCC.
G-BVYM – Robin DR300 – 180
Manufactured: 1971.
The aircraft, along with another DR300, were purchased from a small flying club based in Condom, Southern France. They were flown to Dunstable on 28th Oct 1994. YM was originally registered as F-BTBL and fitted with a 140HP engine. The aircraft flew again on 17th Jul 1995 after an extensive rebuild. The engine was replaced by a 180HP powerplant and the aircraft modified for aero-towing by Aidan Waters.
Among other things, YM has towed 2 gliders over the Grand St Bernard pass from Switzerland to Italy. On that same trip YM towed HLG from Peronne in France to Dunstable across the English Channel.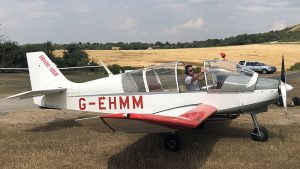 G-EHMM – Robin DR400 – 180
Manufactured: 1973
MM was purchased by LGC in the Summer of 2018 and was re-built by Aidan Waters and Dave Brain. Previously a tug at Booker Gliding Club.
G-BEUA PA-18 Super Cub – 180
Manufactured: 11th November 1964 with a 150HP Lycoming O-320-A2B
First registered as N4146Z April 1965.
Re-registered D-ECSY until 1977 when it became G-BEUA on the 21st June 1977 and was later upgraded with a 180HP engine in the 80's.
Currently out of service under going long term maintenance.
---
Tug History

Click on the picture for details of previous aircraft which have operated out of LGC.
---
Click here for 'Robin Operating Notes'
Click here for 'Technical Details'
Click here for 'Climb/Descent Summary'
---
Return to 'Tug Fleet'               Return to 'Aircraft'                Return to 'Front Page'