Each take-off and landing direction at Dunstable presents the tug pilot with particular problems and specific procedures to follow. Below are the links which will take you to the notes and diagrams relating to each of the take-off and landing directions.
There is a considerable risk to people and gliders when the engine is running. Therefore, tugs should always be parked and taxiied well away from the launch point area. As a rule, a tug should not approach closer than 20 meters to a glider waiting to launch, normally a greater and safer distance can be achieved. The tug pilot should not "lay out the rope" with the tug prior to the next launch. Endeavour to trail the rope in such a way that the onus on the ground handler is to walk behind the tug to collect the rope thus avoiding potential conflict with the propeller.
The North East and West run operations may require the tug to cross the winch cables. In all cases the cables should be crossed slowly and at right angles, turning should be delayed until the tow rope has passed over the cables. If any resistance is felt, the tug should be stopped, a radio call made to the 'tower' to explain and prevent any further launching. Shut the tug down and investigate.
All communications with the tug should be by radio, discourage any members who may approach the tug when the engine is running.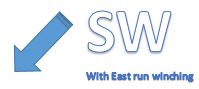 ---
Prepared take-off runs (Patches)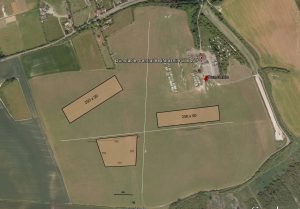 ---
Return to 'Operations'         Return to 'Front Page'